Welcome to the Home of the Roadrunners
Hello, and welcome to the James B. Rolle Elementary website!
We're excited to bring you great news and information about Rolle Elementary. We have teamed up with students, parents, staff, and our community to create an amazing website that's easy to use. We're so energized about the activities, programs, and events at Rolle, that we want to include you and everyone in our community.
Visit this site often to stay up to date on all that's happening at Rolle Elementary. Please check out the Helpful Links that provide useful info, ideas, and tips. Click on the handy Calendar with upcoming events, and browse a list of our great School Staff.
Want even more info? Visit the Frequently Asked Questions page to see what other parents are asking. Please Contact Us directly should you require more information or support. We hope you enjoy your visit to our website, and we look forward to seeing you soon at James B. Rolle Elementary School!
A Message From our Principal
Dear Rolle Families,
We are excited to get the 2023–2024 school year started after a restful summer. Staff are looking forward to seeing returning and students new to the school.
Rolle is an Advancement Via Individual Determination (AVID) school and also follows the district's personalized learning goal of increasing achievement through collaboration. We will be building on collaboration and small group instruction that was a focus from last year. Working with students in small groups enables the teachers and interventionists to target the specific needs of each student. We are also focusing on relationships on campus as a whole, with students working each month on Character Strong traits. We will also be working on having more on-campus events for families to attend, so stay tuned for info about that.
We would like to welcome any new students to Rolle from pre-k, kindergarten, military, and any other new students. I am looking forward to the school year starting and getting to know each and every family. We look forward to celebrating our successes and we will continue to follow our Rolle strong attitude - responsible, respectful, and safe. Please continue to reach out with questions, and remember to check for updates on Class Dojo, Facebook, and this website.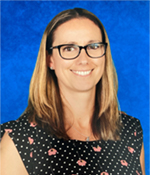 Respectfully,
Liz Angulo
Liz Angulo, Principal